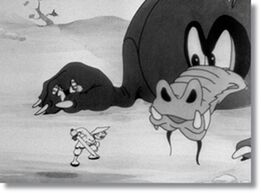 The Friends discovered an obscure prophecy stating that the little boyfriend and girlfriend pair of protagonists of this short were destined to become some of the High Council's most effective agents when they grew up. The Friends weren't sure if the prophecy was true or not, but they weren't taking any chances, so they ordered these two villains to kill the couple on sight. The emperor was a client of the Friends (and they helped him become emperor in the first place), but the dragon was the first kind of agent described above, a creature created by evil magic. The High Council didn't hear about the prophecy until after the kids' encounter with the Friends' minons, didn't notice the Friends acting in this world and thus couldn't intervene to help the kids, but luckily the kids were able to protect themselves.
Ad blocker interference detected!
Wikia is a free-to-use site that makes money from advertising. We have a modified experience for viewers using ad blockers

Wikia is not accessible if you've made further modifications. Remove the custom ad blocker rule(s) and the page will load as expected.