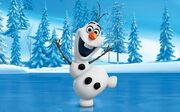 Being a living embodiment of love and kindness, Olaf spreads happiness and cheer wherever he goes and lets very little get to him. These traits make him a key part of warding off the Friends' influence throughout Arendelle. And thanks to his personal flurry, he has little fear of melting.
Background
Edit
Initially, he appeared as an inanimate snowman made by Elsa during the times when she was close to her sister Anna. Then when Elsa ran away into the mountains and sang "Let It Go", after losing control of her ice powers, he was brought to life by the High Council as a final safeguard to ensure that Elsa comes to the light. He then met Anna, Kristoff and Sven while looking for Elsa, with Anna giving him the missing carrot nose. He once appeared to Anna in the library and revealed that Kristoff is in love with her. Later, when Elsa became queen again, she creates a miniature snow cloud for Olaf so that he can experience summer without melting.
However, he's still terrified of Hades and the Firebird. Their very names makes him scream and run away.
Ad blocker interference detected!
Wikia is a free-to-use site that makes money from advertising. We have a modified experience for viewers using ad blockers

Wikia is not accessible if you've made further modifications. Remove the custom ad blocker rule(s) and the page will load as expected.