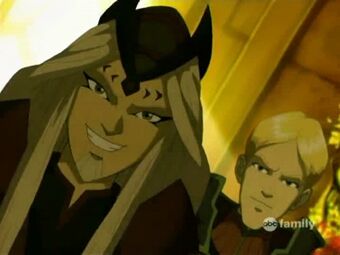 Prince phobos is an evil tyrant and worshipper
Chernabog
from the world of W.I.T.C.H
Prince Phobos took the throne of the kingdom of Meridian with the help of Chernabog, who gave him his training from his youth. He drained the life force of the people in order to fuel his own magical powers with enough to turn them all to the forces of dark magic and give them all to the friends so that they be as powerful as chernabog. Prince Phobos sees chernabog as a god, a mentor and a father and wishes to take over the multiverse with him. However, the High Council, realising that Phobos posed a great threat, the High Council and the Council of Kandrakar, a realm at the center of the universe, raised a magical shield, known as the veil around meridian, sealing phobos inside and cutting it off from all other worlds.
When phobos took the throne, the light went out of this world, all of the men are jailed , their crops are stolen and the people have no security and nothing for themselves but there dreams.
Chernabog was never so proud In his immortal life that there's finally a world that the friends can rule and thus Chernabog became to like phobos as his own son and gave him all of the powers so that the devils would be feared by phobos just as much as they are feared by chernabog, thus allows phobos to rule all of meridian and has him to join the Inner Circle. But while ruling Meridian, Phobos then realised that his own Sister, Elyon Brown, the heart of Meridian would eventually defeat and overthrow him. Fearing of this, he plans to absorb all of her powers and become even more powerful enough to defeat her and bring her soul to Chernabog.
Ad blocker interference detected!
Wikia is a free-to-use site that makes money from advertising. We have a modified experience for viewers using ad blockers

Wikia is not accessible if you've made further modifications. Remove the custom ad blocker rule(s) and the page will load as expected.