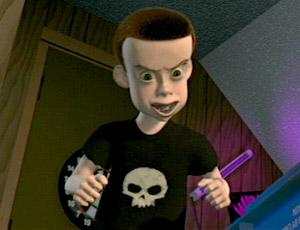 Sid has been on the Friends' radars for a while, due to his For the Evulz nature and his willingness to destroy toys (who, as noted in their entry, are low-level agents of good). Though he didn't know about the Friends or the conflict at the time, the Friends planted ideas in his head about nasty things to do to toys and provided the equipment for the ideas he decided to pursue (for example, he got the rocket he'd planned to blow Buzz up with by ordering it from a company that was actually a front for the Friends). After Sid gained a phobia of toys thanks to Woody and the gang, the Friends manipulated circumstances to land valuable toys in the clutches of Al.
The Friends later contacted Sid directly and showed him the Monster World, and he decided to use Monsters Inc.'s doorways to children's rooms to steal toys from children in order to spare them from what happened to him. In return for showing him the Monste World, the Friends asked Sid to free Waternoose and Randall to allow them a chance at revenge against Mike and Sulley. The alliance was spoiled, and Sid became an unaffiliated agent again.
Ad blocker interference detected!
Wikia is a free-to-use site that makes money from advertising. We have a modified experience for viewers using ad blockers

Wikia is not accessible if you've made further modifications. Remove the custom ad blocker rule(s) and the page will load as expected.